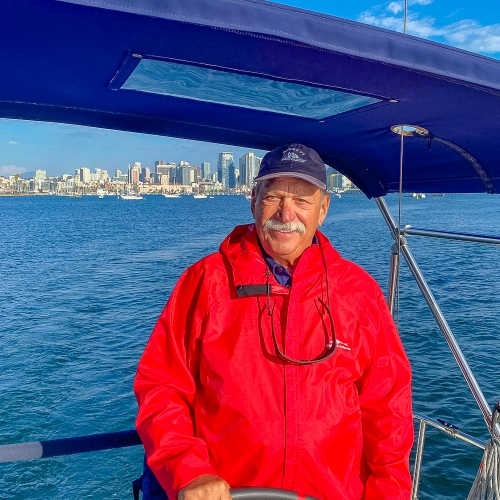 Len Bucko ("Capt Buck")
Len started sailing and scuba diving at a very early age while growing up in MA and Newport, RI.
He joined the Marine Corp Officer Training Program while still in college. Upon graduation he went on to fly the F-4 Phantom and F-18 Hornet for 20 years, retiring as a LtCol. The highlights of his military career include a 3- year assignment with the US Navy as a Top Gun Instructor and a 3-year assignment with the USAF as a Red Flag Aggressor pilot and Soviet Mig -Fighter jet test and evaluation pilot, flying the MIG-21, 23 and 27.
After retirement from the military, Len flew with American Airlines before going back to the Marine Corps as a civilian to manage the F-18 Flight Simulator training program for 15 years at El Toro and Miramar, CA air stations.
Throughout all these great life experiences, Len always owned a boat and sailed in many oceans around the world, including Japan, Hawaii, the Bahamas and Southern California. He has been a scuba diver since the age of 10, reaching the Instructor Trainer/Evaluator level with the YMCA, NAUI and PADI agencies. His passion for the ocean, scuba diving and photography led Len to develop a Dive Travel Company and an Underwater Photography /Video School. For Len, it's all about the ocean.
He brings to California Yacht Sales an extensive knowledge of the sea, the experience of teaching sailing, and his USCG 100 Ton captain license. His greatest attribute is his love of people and education, which allows him to coach potential boat owners and sellers into making good decisions that fit their needs and well as their budget.