Island
Packet New Flagship 525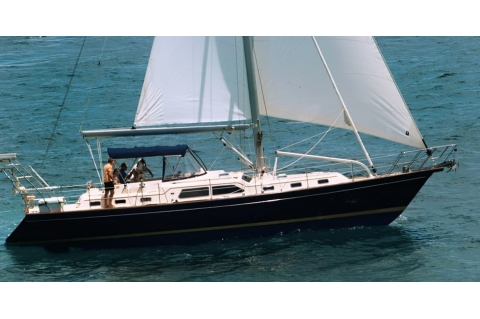 Island Packet is one of the longest running, American-made, sailboat manufacturers. It all began in 1978 when naval architect and yacht designer, Bob Johnson, left Endeavor Yachts to build boats of his own design. He began with the Lightfoot 21 and by the next year had purchased molds from a defunct company to create a 26 foot cruising boat he named, Island Packet.
Several decades and thousands of Island Packet's built, later, Bob and his team are introducing the 520/525; the largest cruising yacht the company has ever made. The 520 is a stern cockpit model while the 525 is a center cockpit. Prior to this new model introduction, the largest Island Packet, the 485 (replaced by 490/495) is about 4 feet shorter than the all-new model. The length was added at the stern to provide more waterline for speed and more storage for long passages.
As with the entire line of Island Packet Yachts, the new 525 flagship offers a variety of technology, workmanship and craftsmanship not found in other production boats with the cruising sailor in mind. It starts with a one-piece, integral hull and keel of 100% hand laminated, high modulus knotted fiberglass that is infused with their own proprietary application system. So, that, still to this day, Island Packet hulls come with a 10 year warranty against osmotic blistering. they can do this because they developed their own PolyClad® gel coat system. Island Packet remains one of the few manufacturers to offer such a level of coverage. You will also find the lead ballast has been fully encapsulated, which in effect, forms a double bottom over the length of the keel with no keep bolts to worry about. Island Packet goes to great lengths to create a strong hull including their structural floor grid which bonds the hull to the interior, in effect, making the boat twice as strong as others in this class. While we could spend hours extolling the virtues of their attnetion to detail, like no other manufacturer, the best way to understand is to come and see one to compare against other boats in this class.
Back