Island
Packet 490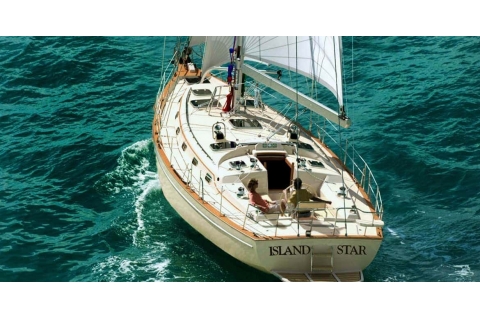 The new Island Packet 490 picks up where the 460 left off; which was winning awards! 10 years ago the 460 won the "Domestic Boat of the Year" from Cruising World magazine. Thats because both were designed by Bob Johnson, who started Island Packet brand of sailing yachts over 40 years ago, now. Just like the 460, the 490 is an aft-cockpit model that features an aft deck area that is perfrect for sunbathing. For the more pragmatic, it is also an excellent space for on-deck stowage. The Florida boat builder has now made well over 2300 in those years, creating a cult of followers in its wake!
One of the main reasons Island Packet has the kind of fans that they have is because of their design philosophy which begins with the Full Foil Keel™ that also protects the prop and rudder while providing a very stable and seakindly motion, offshore. The thoughtful design culminates in the crew spaces down below which have evolved over the years, mainly from suggestions from real-life cruisers using the yachts to cross oceans.
At this length, the aft-deck design allows for more storage volume while maintaining a very traditional look in its lines. The attractive transom platform makes stern boarding simple and safe. When you order your 490, you are buying a semi-custom yacht that allows you a variety of customization options including get coat colors, sail systems and interior configurations. You get to decide whether you want a 2-cabin or 3-cabin layout. The forward stateroom with island queen bed can have an optional office/workroom/laundry with a single berth. It features and en suite head. The stern stateroom also features generous space and share the head with the salon.
The wrap around galley makes great use of its space and is geared towards cruising needs with guard rails and harness hooks. All the comforts of home include refrigerator, freezer and 3-burner stove and oven. The main salon features full-length port and starboard setees covered in your choice of ultaleather. A large drop leaf table folds against the bulkhead when not in use to provide more space. You will also find ample stainless steel opening portholes as well as overhead hatches for plenty of air circulation.
Finally, from the rigging, hull build to interior finishing you will find nothing but high quality workmanship and well-tested equpment of the highest degree. These are the things that put the American made Island Packet in a class of its own when comparing to other brands built today.
Back