Blue
Jacket 40 Offers Performance and Cruising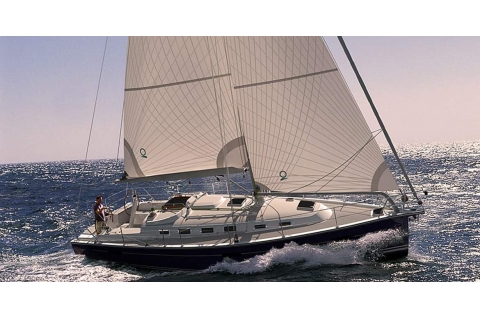 When Island Packet designer, Bob Johnson, decided to create an all new yacht to compliment his tried and true designs, he teamed up with Tim Jacket for the collaboration. Tim had been chief designer for Tartan and C&C. So, he knew a thing or two about combining luxury appointments with performance capabilities. The goal of the two was to create a yacht that would be competitive in racing without sacrificing comfort for cruising. Fast, capable cruisers are a very popular combination and the result is the Blue Jacket 40.
This exciting, American-made yacht is available to order on a semi-custom basis, beginning with the decision to create a 2 or 3-sleeping cabin model floorplan below. The design team has been able to incorporate many of the luxury and conmfort aspects of an Island Packet inside the volume of a performance cruiser! You will find a proper navigation station, retractable saloon table, large open galley that works on either tack, two freezer/fridge drawer systems. The two cabin version allows for additional storage and/or workspace in the stern as well as an ample cabin. Some owners may want two euqal sized cabins in the stern which can be ordered that way as well.
Up on Deck you will find an oversized cockpit. As with many popular modern sailboats, the Blue Jacket features twin wheels at two helm stations. All sail control lines are led aft to the cockpit. The halyards and boom control lines come to the cabin top. So, all sail control can be accomplished without going forward. Only top of the line hardware is used throughout. That includes an electric Harken winch for the main halyard. For auxiliary power, you'll find a proven Yanmar 40 engine. The stock, carbon fiber pocket boom has an integral cover and lazy jack system to handle stowing the main with ease.
California Yacht Sales Broker, Ian Bossenger, says, " I have had the pleasure of sailing the Blue Jacket on a couple of occasions. The boat is responsive in light morning winds, easy to tack with the Hoyt boom doing all the work and a fun ride downwind. Five of us felt very comfortable in the cockpit. Heading upwind with the solent rig carrying a 150% reacher in 12 knots of wind and one can easily see this bot performing well as a competitor in the beer cans or offshore as a legititimate cruiser."
Back